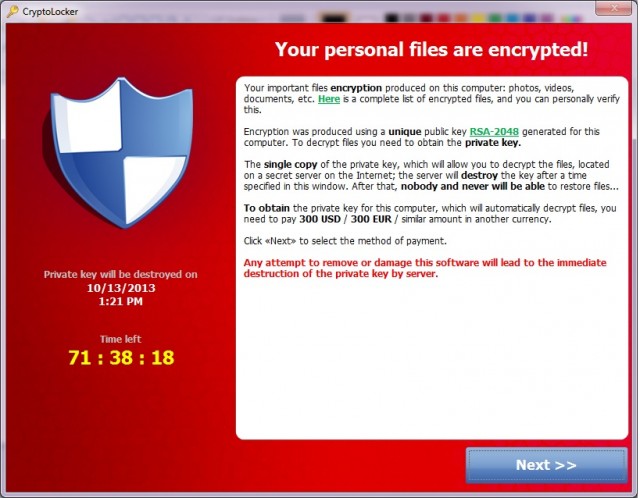 Taken from
this story
:
According to multiple participants in the month-long discussion, CryptoLocker is true to its name. It uses strong cryptography to lock all files that a user has permission to modify, including those on secondary hard drives and network storage systems. Until recently, few antivirus products detected the ransomware until it was too late. By then, victims were presented with a screen like the one displayed on the computer of the accounting employee, which is pictured above. It warns that the files are locked using a 2048-bit version of the RSA cryptographic algorithm and that the data will be forever lost unless the private key is obtained from the malware operators within three days of the infection.

[...]

"The server will destroy the key after a time specified in this window," the screen warns, displaying a clock that starts with 72:00:00 and counts down with each passing second. "After that, nobody and never will be able to restore files. To obtain the private key for this computer, which will automatically decrypt files, you need to pay 300 USD / 300 EUR / similar amount in another currency."
My observation on this matter is this: someplace, somewhere, I think that Neal Stephenson must be laughing right now.